吉隆坡市中心唯一的私营化骨灰殿堂
繁华都市中的生命殿堂-坐落於吉隆坡交通脈膊的黃金三角地帶, 富贵生命館是市中心的五星级豪华私营靜心养息之殿堂。 繁华都市中的永恆国度; 事前规划,心无牽掛。
大自然空气在开放式且高雅堂皇的大殿內飄拂流通,大殿內矗立著慈祥肅穆的西方三聖,佛音连绵,令人感到荘嚴祥和。地藏王菩薩、釋迦牟尼佛及覌世音菩薩坐鎮大殿,普渡逝者徃生极乐世界,庇佑后人平安吉祥。
---
Nirvana Centre Kuala Lumpur: The Only Privatisation Columbarium In Kuala Lumpur City Centre
A Spiritual In The Heart Of City - Nirvana's 5-star columbarium PHASE 2 is finally on sale now!

A Gem In The Bustling City.
The very design of this establishment allows for harnessing the free-flowing "CHI" from nature through the open-structure concept. Gracing the elegant grand hall are three majestic statues of the Trinity of Western Paradise, in the form of the Bodhisatta (God of Earth), Amitabba Buddha and Guan Yin (Goddess of Mercy). This is such a holy place that leads the departed to the land of Eternel Bliss while seeking blessings for posterity.
During launching period, we are offering "SPECIAL DISCOUNT". Double niche starts from RM19,800 only!
富贵生命館 8大优势 | Top 8 Benefits Of Nirvana Centre Kuala Lumpur


位於吉隆坡市中心黄金地段




完美融合骨灰殿堂与追思礼堂




五星级堂皇骨灰殿堂




一站式专业殡仪服务



Ideal location in the heart of Kuala Lumpur City

Perfect Combination of columbarium and memorial hall

Five-star magnificent columbarium

One-stop-worry-free funeral service


五星级设施 (花店,便利店,餐厛,休憇大厛,佛教徒祭拜礼堂,一应俱全)




富贵集团擁有超过马币2亿永久信讬基金(道路园艺及设施确保永久管理 )




非凡的投资价值




零利息分期付款

Five-star facility
(Florist, Convenience Store, Cafe, Resting areas, Buddhist Praying Area & etc

Over RM200 millions of perpetual maintenance Trust Fund

Excellent investment value

Zero interest instalment

| | | |
| --- | --- | --- |
| | | |
| Outter View | Lobby | NV Care |
| | | |
| Modern columbarium | Christian Columbarium | Buddhist Columbarium |
| | | |
| Multi Purpose Hall | Guest Resting Area | Guest Resting Place |
| | | |
| VIP Memorial Hall | Memorial Hall | Temple |
| | | |
| Florist | Cafe | Parking |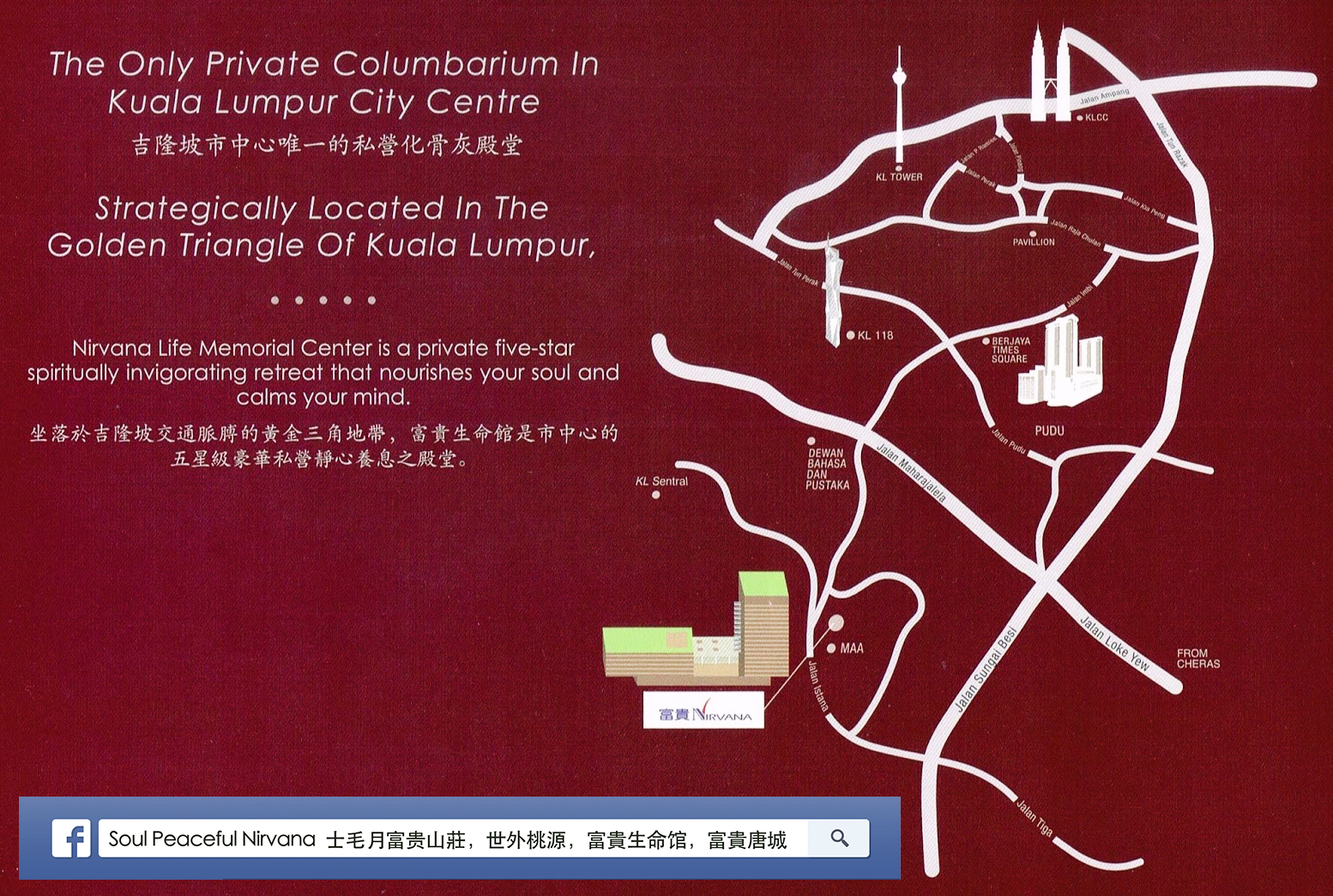 | | | |
| --- | --- | --- |
| Google Map | Waze | wasap.my/60193932139 |
| | | |
| | | |
| --- | --- | --- |
| | | |
| 白衣天使 | White Ladies | Monthly Promo | Funeral Service Package |